#SOL22 #15
Today I began the annual back breaking ritual… spreading literal tons of compost throughout my lawn and garden areas.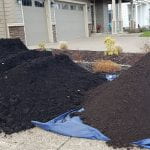 Although many people (including me in the past) generally spread some kind of tree bark as mulch, since moving to this house two years ago, I use compost as my only mulch.
My house is in a brand-new development, and in typical style the developer scraped the soil down to nothing during the excavation and building process, then laid sod over the bare ground, which in this area is pure clay. As a result, the grass struggles to survive from day one.
This is the third year I am spreading a couple of inches of compost everywhere. And the grass is thanking me. It is increasingly lush and full and tolerates periods of hot, dry weather with increasing resilience.
As further evidence of the improving soil health, the earthworm supply has been increasingly rapidly. I spotted only a couple here and there when I first began planting things. Now, they are lurking everywhere, such as this congregation I found under a stepping stone I moved today.
So many things to learn and experiment with, to fail at and to cause to flourish.